I will try to tell some appreciation for the Plant Functional Traits Course 3 – Peru.
My aim for the course was to clarify some of the concepts that I learned during my work with functional traits. I think that I am near to fulfill this aim. I need read a bit more to say that I consolidated differents concept of trait ecology. By another hand, I would like to learn more about data analysis and how to interpret these data, that is an aim that still is in progress. When we have all the data curated I think we will work more on this topic to complete a common aim of the groups that look finish a possible paper.
I'm not sure about what I learn about me during the course. Maybe a good answer is that I like work in a group. Work with many people from different realities is a nice experience, each one can help each other to improve their knowledge from the different points of view. I think that is the best way to consolidate ideas and generate new ones for doing future collaborative projects.
The Cusco society perception of the climate change is good.  I had a good impression of my society many of the persons that participated in the interviews recognize that the current extreme natural phenoms are the result of our collective actions and they have an intention to change some their attitude for mitigating the effect of climate change. Maybe the people don't have a scientific knowledge about the theme, but they can recognize that the environmental conditions are changing during the last years. These changes have a prejudicial result for the Peruvian farmers, the extreme weather put in serious risk the way of life that they have.
Make the survey was a new and nice experience. Try to establish a conversation with new people in the streets was a bit complicated for me. When the people needed some explications about some questions in the survey was complicated find the appropriate words to explain what we tried to find. I think that our results are interesting we collected many different perceptions about the climate change and all of this ideas recognize that this phenom is real and actual. When I finished this component of the course I understand that we as scientist need to think about ways to communicate our knowledge to a more broad audience.
Share this time with PFTC3 group was nice. I hope to see you again buddies …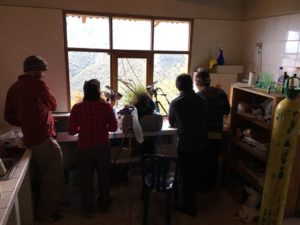 Photo: Brian Enquist