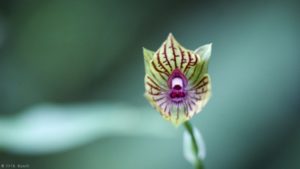 Going to Peru I surely had hopes and dreams although I had next to nothing to base them off of. Without any doubt even my wildest expectations for Peru were surpassed.
As for seeing interesting new (albeit only to me as a northern European) species was startling, especially the wild variety of orchids blew me away. One of the biggest revelations though has to be that humming birds actually do hum!
However, singlehandedly the most important thing to me is what I learnt during this course. About Peru, about plant functional traits and about myself.
Being a remote sensing data jockey myself, I was anxious to get out into field work. One thing is for certain: My admiration for field researchers has sky rocketed. It might be due to the fact of me falling ill on this trip that I did enjoy my time in the lab whilst the actual field work exhausted me beyond belief but being together with our wonderful team of fun and thorough research fellows surely made the whole ordeal enjoyable.
I'm positive that I will tackle field work again but stick to colder climates as I noticed that my body really didn't cope well with the moisture and heat. Well… back to my biostatistics and my laptop it is, I guess.
Another surprising thing about Peru were its inhabitants. Particularly how knowledgeable they were about climate change, its causes and its effects. It's a shame that I am not able to communicate with them. At least not verbally. Pointing and gestures always work well wherever you are but I wouldn't have an academic discussion based on this alone.