My aims for the traits course in Peru were to get a general understanding of trait-based ecology, explore how I could use this approach to answer my own research questions and build network with the other participants on the course. I think I met all my goals for the course, in addition to achieving other positive things, such as improving my skills in graminoid species identification and learning more about carbon fluxes and methods for measuring it.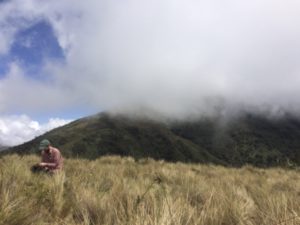 Jon trying to get an overview of all the different graminoids in the Puna. I will for sure appreciate my flora from now on!
During the course we worked in the Andean Puna, a landscape that has been subject for anthropogenic burning for thousands of years. The different field sites had different fire history in terms of time since last fire, ranging from only 3 to more than 40 years. My own study system, the coastal heathlands, has also been anthropogenic burned for thousands of years. This practice is still maintained as it is an important management tool. Despite many similarities between the Puna and the heathlands, they vary a lot in species turnover with time since fire. It is relatively easy to determine when a heathland was last burned based on the plant community composition. In the Puna however, the plant community looks almost the same where the last fire was in 2010 and 1970. The turnover with elevation was also surprisingly small. I am now very curios if I can see a change in traits composition with time after fire in heathlands, as the change in plant community is so clear. And did I succeed in building a network with the other participants at the course? No doubt! Our first paper together, based on data from the course, is already on its way!
Not Puna, but heathland. First thing I did when I was back in Norway was burning this one. Similar to the Puna, the purpose of the fire is to improve foraging for outdoor livestock.
I like traveling, and I like seeing new landscapes and being exposed to new cultures, but at some point I always get homesick and I can't help thinking that Norway is after all the most amazing place in the world. Well, this was before I went to Peru. I stayed in Peru for almost six weeks, and not even once did I feel homesick. When the time for my return arrived, I was not ready to leave Peru! And even though it's nice to be back in my dear Norway, I still dream of the Andes every day, and I'm definitely going back. So one of the things I learned about myself is how much I love the Andes. I also learned how well I thrive with being off line and having the opportunity to focus solely on one thing over a long period. It has been great to only with the traits course for many weeks in a row.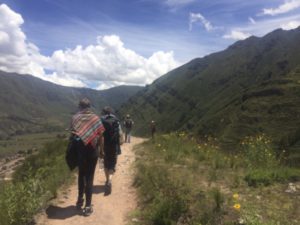 Lovely Andes with its stunning landscape. And it's even better when you can explore it together with good friends. Thank you every single PFTC3 participant, I hope I meet you all again some day.
Before I went to Peru I expected that most Peruvians see climate change as a real problem and that they consider it to be human caused. After interviewing people, this impression is strengthen. I interviewed people together with Erickson, and everyone wanted to have a dialog with us instead of filling in the questionnaire themselves. Because of the language barrier I could not follow the conversation very closely, but I do not think that anyone thought it was controversial. We tried to interview people that differed in sex and age, but they all answered very similar to the questionnaire. They all considered climate change to be a threat, and they expected it to impact their lives. Interestingly, most of them also said that they had friends that did not have the same perceptions. Maybe some Peruvians have prejudices towards how controversial human caused climate changes is in Peru?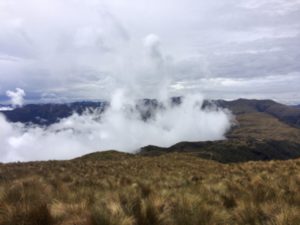 The clouds rolling in over the Puna. Many of the Peruvians we talked to were worried that reduced precipitation and higher temperatures in the mountains will lead to water shortage in the lowlands due to decreasing glaciers and less water in the mountain streams.