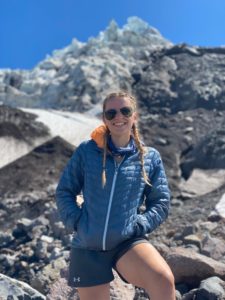 a. What is your background? Where are you from? What do you study? What are you most interested in, scientifically?
My name is Erin Gregory and I am going into my fourth year at Western Washington University in Bellingham, WA, USA. I am double majoring in environmental science and geology. My academic interests lie in climate and paleoclimates sciences, and I will ideally be studying sediment cores for my graduate studies. I would love to model the paleoclimate and paleoecology of the earth, expanding on what FATES aims to do, but doing simulations of a past planet rather than a future one, and with a primary goal of temperature modeling.
b. Give us a brief summary of your internship project. What is the study system? Primary research questions? With whom are you working?
I am working with Dr. Sonya Geange on the EMERALD project, specifically concerning development and testing of the Functionally Assembled Terrestrial Ecosystem Simulator (FATES). CTSM-FATES is a terrestrial ecosystem model that represent various biophysical and biochemical processes of vegetation and vegetation dynamics in the ecosystem. It is an important component of the earth system model. The EMERALD project intends to combine existing and new measurements from under-represented alpine and artic systems to improve quantification of climate change impacts and feedbacks with vegetation. FATES will simulate those impacts through integrating insights on plant physiology, competition processes, ecosystem assembly, and vegetation distribution. As this process is still in development, my study system at this time is a) testing the FATES platform parameters, and b) developing training protocols in GALAXY, a user interface to make technologically advanced processes and coding more accessible.
c. What is your role in the research team in terms of tasks and responsibilities, and how do these relate to the aims of the research project?
My role on the research team is to assist in the upload and testing of data to FATES, to help a) validate current model processes and parameters, b) identify opportunities for future model development. Here, I will integrate the field-based datasets from alpine and artic projects already underway at the University of Bergen. I am also working with the user interface of GALAXY, working through and assessing the training methods used on the platform and will eventually be using to work on FATES through the interface of GALAXY. As highlighted above, technologically advanced modeling and processes such as FATES are not accessible to many scientists, and can make communicating about projects and systems difficult. Tools such as GALAXY can assist in streamlining data input and modeling, making it easier for scientists to use and share, as well as allowing the processes to become more easily integrated into education systems. The testing of and working through training materials will set the foundation for success of the EMERALD project and contributing to the training material for GALAXY will ensure an even more successful user interface in the future.
d. What were your specific goals for the upcoming internship? These can be both scientific and personal. Are you meeting, or did you (if the internship is complete) accomplish your goals? Please explain with specific examples if possible.
My goals for the upcoming internship are multifaceted. First, I hope to be able to successfully help Dr. Geange with the EMERALD project, whose goal is to improve overall climate science and make global and community land model data and simulations more accurate and accessible. Second, I hope to learn how to use the GALAXY and FATES platforms in order to utilize them for research later in my academic career, and to showcase them to other academics who might be able to contribute to or use the platforms. Third, I hope to continue to expand my knowledge and networking foundations in order to assist in asking and answering the most important scientific questions of the upcoming decades.
e. What skills or knowledge from your prior experience and education did you find useful during this internship? Did you develop any new skills or knowledge? Please explain.
I came into this internship with some knowledge of R and the biology series under my belt. Overall, I came in knowing very little about what I would need to do, and it has proved to be beneficial, as I can look at everything I do with fresh eyes. As I am only two weeks into my internship, I have yet to learn some of the skills I know I will leave with. That being said, I have learned through various training methods how to use the GALAXY platform and its workflow functions to make models of climate data, as well as learned where to go if I wish to find out more information. I hope to continue to work with the GALAXY interface, as it is an interface that has endless potential in helping scientists use complicated coding platforms in a replicable and understandable way. I am also learning how to navigate working with people in multiple time zones, starting in undergrad to learn how to operate under the guise of global science collaboration.
f. How has the COVID19 pandemic altered your plans or your experience during this internship?
Well, seeing as this internship was supposed to take place in Norway, I would say the most significant impact of COVID19 has been the inability to travel to participate. Other than that, most of the tasks I've been given are well adapted to a remote platform.