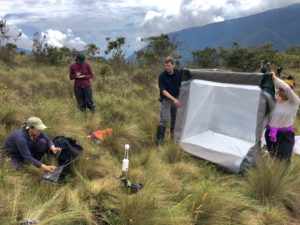 Hello! My name is Jocelyn Navarro. I am from California and recently graduated from Connecticut College. I will be starting my PhD at the University of Arizona in Brian Enquist's lab. Participating in Plant Functional Trait Course 5 surpassed my exceptions. Before attending the course, I sadly had to take a break from science and was working at a call center in California. However, before I knew it, my days of working for corporate America were now over and I was off on a plane headed to Peru to conduct fascinating research as a participant of PFTC5.
I was extremely excited about this opportunity! For example, while I was on the plane, I made small talk with the nice strangers that sat next time. When I say small talk, what I really mean is that I spent 10 minutes talking about plants and how climate change is affecting the environment and how biodiversity loss is a big issue and etc…. It was really exciting to see their faces whenever I mentioned my reason for visiting Peru and that I was participating in PFTC5; they were amazed that such a course existed, or that people dedicated their lives to studying those particular plant traits specifically!
One of my biggest goals while participating in PFTC5 was to measure carbon fluxes. I was a member of group 4, and that goal was accomplished! However, there were multiple sites we wanted to visit, but due to Covid-19, the course was cut short and group 4 did not get to visit all the sites, but we were able to collect data from both burn and control plots.
All in all, it was an incredible experience. I accomplished my goals and felt more confident in my abilities to communicate science effectively as well as collect and document data that can be used on papers. However, I wish I could have learned more about data analysis while I was at Waychecha, but luckily, the courses through Zoom were helpful and provided me great information!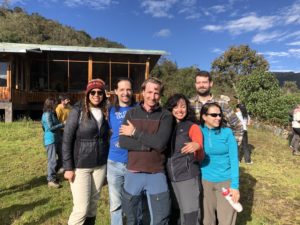 Thoughts on being a student in PFTC5 during a pandemic:
Being in Peru during the pandemic and seeing how different countries were enforcing different travel bans and strategies to flatten the curve was a nerve-wracking experience. Being in Wayqecha without internet access made me oblivious to the severity of the virus. The course leaders were very helpful and provided us with daily updates, but I never could have imagined the virus would have led to us leaving the field station in such a short amount of time. I am thankful for the proactive measures the University of Arizona took before Peru enforced the travel ban, and I was fortunate enough to be able to leave before the travel ban was enforced. I felt extremely guilty leaving and wish there was something I could do to help those that were stuck in Peru. However, I was also glad that some of us were able to leave, which meant there were less people the course leaders had to worry about getting to their respective homes.
Many thanks to all the students and course leaders for this wonderful experience! I'll never forget them and the wonderful memories that were created!