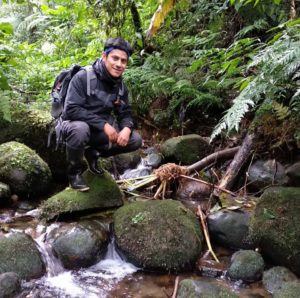 What is your background? Where are you from? What do you study? What are you most interested in, scientifically?
Hi, my name is Rudi Saul Cruz Chino and I am from Cusco, Perú. I did my undergraduate studies at the Universidad Nacional San Antonio Abad del Cusco, after that I worked as an assistant in projects related to forest regeneration, trees communities' dynamics, functional traits (especially photosynthesis measurements). Actually, I am working with soil microbial communities in the tropical timberline of the national park of Manu, focusing on the differences between the biomes that form part of this ecotone. I am so interested in how plant physiology, soil biochemistry, and their interactions vary through different ecosystems and climate change sceneries.
What are your goals for the upcoming course in Peru? How will you know if you've met these goals?
I have been always interested in how the relationship between plant and soil works through different ecosystems, mainly ecophysiology and recently soil biogeochemistry. I have still many things to learn and be a student of this course will give me the chance to improve my understanding of plant ecophysiology, its methods to asses it and how to drive the data analysis.
What are you most excited about, with respect to the upcoming course and trip?
One of my favorite places are the tropical mountain forest and the experience to have a field course at a beautiful biology station like Wayquecha sounds really nice, especially because it is a place with particular environmental conditions that will give me a unique opportunity to learn more about plant physiology in this kind of ecosystems, and how to asses it correctly. I am also excited to meet people from different countries and teachers with awesome expertise. I am sure it will be a great experience.
What do you anticipate people will think about climate change in Peru? Do you think most people will accept that the planet is warming, and that this is largely being caused by human activities? Or will this topic be controversial?
I think most people accept that planet is warming as a result of intensive human activities mainly related to CO2 emotions, but anyway it will always be controversial because despite most of the people in Perú have heard about global warming at least once, whether on TV, school, university, etc. for most of them it is just a theoretical concept especially for people living in town, who have many resources but ignore where it comes from.
What do you know about public perceptions of climate change in your home country? What, if anything, have you experienced related to public perceptions of climate change?
Climate change is actually a real problem, but not many people are aware of that because I noted despite people know about it, many of them do not think they are part of the problem. There are few people taking and changing actions as ecological responsibility.