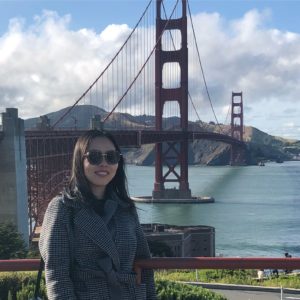 What is your background? Where are you from? What do you study? What are you most interested in, scientifically?
Hey! My name is Shuli Chen. I am a Ph. D student in Evolutionary Biology and Ecology at University of Arizona. A year ago, I just finished my master degree in Remote sensing at Beijing Normal University. By exploring the applications of remote sensing for ecology, I realized that my real interests are to understand the interactions between the plants and their environments.  My current interested area is to explore the response of tropical forests to climate change, especially extreme weathers, like droughts. By linking the field measurements at fine scale and remote sensing observations at large scale, I try to have a better understanding of the physiological mechanism of tropical forests responding to droughts and the trade-offs among their functional traits across temporal and spatial scales.
What are your goals for the upcoming course on Svalbard? How will you know if you've met these goals?
To achieve my research goal of better understanding of the response of tropical forests to droughts, Plant Functional Traits Course 4 is such an ideal choice for me. It would contribute to filling my knowledge gap between theoretical knowledge and practical understanding in ecosystem ecology. I am excited to learn to collect plant functional traits in the fields, like hyperspectral measurements and eddy flux data collection, and analyze those data based on climate-change and ecosystem ecology. I would like to know how leaf spectroscopy is varied at leaf and canopy scales, and how the leaf hyper-spectra could predict functional traits. Besides, is there a potential for an optimal model of leaf spectra which is able to predict traits both at leaf and canopy scales. I believe that Plant Functional Traits Course 4 is able to help me better understand the mechanism of ecological phenomenon, and benefit my future studies related to plant functional traits and climate change.
What are you most excited about, with respect to the upcoming course and trip?
The trip to Svalbard is the most exciting thing! The high arctic area with least human activity will provide us the closest appearance of nature. The field hyper-spectra and air-borne spectroscopy measurements will provide me the first-hand materials of the potential of leaf spectra for functional traits predictions.
What do you anticipate people will think about climate change on Svalbard? Do you think most people will accept that the planet is warming, and that this is largely being caused by human activities? Or will this topic be controversial?
The global warming also happens in Svalbard. Even though reasons of global warming may be controversial, global warming is undoubtedly related to the influences of human activities.
What do you know about public perceptions of climate change in your home country? What, if anything, have you experienced related to public perceptions of climate change?
A large number of people in China believe that the climate has changed gradually closely related to human activities. Because of manufactories in the countryside around Beijing, air quality there is significantly affected by high frequent polluted hazes in spring, which is a serious healthy issue for human beings now.