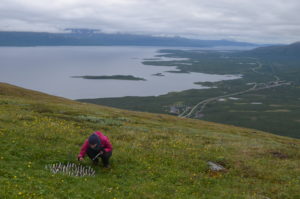 I am a PhD student in the Landscape Ecology group of Stockholm University, but originally I come from Germany. My background is mostly in landscape planning and applied nature conservation in the south-western part of Germany. After a few years working in this field, I got more and more interested in research and also wanted to learn more about international environmental issues, so I decided to go back to university for a master program (Environmental Science in Europe). In my master thesis, I investigated the effects of climate and roads on plant invasions in mountains. Now in my PhD project, I will further explore how climate (especially extreme weather events) and land use (especially grazing) are shaping plant communities. My goal is to better understand what drives plant species distributions and to improve management practices.
Since I have never worked with functional traits before, I am keen to learn all about it during our course on Svalbard. I like this course's approach of combining hands-on data collection in the field with data analysis and interpretation. I will know that I have met my goals if I will be able to apply the course content to my own PhD project. Thinking about the upcoming trip to Svalbard, I am most excited to experience the high Arctic (first time for me!) and to get to know everyone else in this course, including their research projects.
I would think that in Svalbard, people are very much aware of the ongoing climate change, since its effects are so pronounced there. I don't think anyone in Svalbard is denying that our planet is warming, just because they can witness first-hand how much of the sea ice is melting away each year. Moreover, I assume most people there agree that climate change is largely caused by human activities, since there are so many researchers and nature-loving tourists living and traveling in Svalbard. The only point of controversy I can think of is their history of coal mining, which might be ingrained in people's heritage and could influence their opinion about climate change.
In my home country Germany, I would say that most people agree about the main causes and consequences of climate change, at least regarding my friends, family and colleagues and also in the media that I follow. But as anywhere else, no one wants to seriously take action, just thinking of our car industry for example.